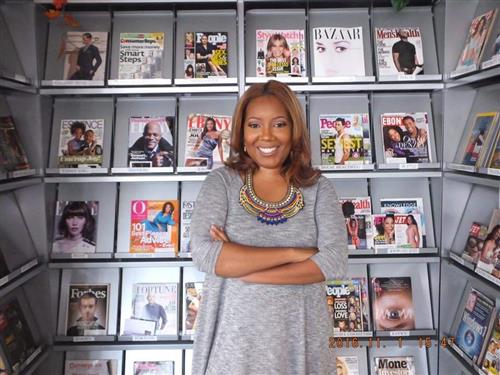 Phone:
Email:
Degrees and Certifications:
Ms.

Stephanie Griffin

Ms. Stephanie Griffin is a career educator. Throughout her 15+ year career as an educator, she has had the opportunity to teach in various educational settings within the City of Detroit, including, Detroit Public Schools, Detroit Charter Schools, and the Education Achievement Authority. This exposure to various educational systems has allowed her to learn about the operations of public schools, charter schools, and schools under redesign. The utilization of knowledge attained during her tenure has allowed her to effectively implement processes and techniques to positively affect student outcomes.

Ms. Griffin is also a well-decorated educator. Most notably, Ms. Griffin was named The Detroit Pistons Game Changer and won a $1000 grant for her students for the 2017-18 school year. Ms. Griffin was also named as Mix 92.3's Teacher of the Week. Additionally, Ms. Griffin has been awarded honors, scholarships, stipends and grants to support her academic vision for her students.

Outside of being an educator, Ms. Griffin is a life-long learner. Currently, Ms. Griffin is slated to receive her Doctor of Educational Leadership from Central Michigan University in the Fall of 2019. Ms. Griffin is also an educational advocate and believes that Detroit children deserve a rich and rigorous educational experience. Her passion to ensure the success of Detroit's children afforded her the opportunity to be named a Steering Committee Member of The Coalition for the Future of Detroit Schoolchildren. The committee is comprised of business leaders, principals, teachers, and education reform activist who all have a vested stake in the future of the children of Detroit. Ms. Griffin has advocated on behalf of educational reform that will lead to increased student achievement and district-wide operational efficiency in the city of Detroit.

Ms. Griffin's educational resume has provided her with a distinctive skillset to work with diverse populations of students; as well as a specialized and unparalleled lens on education and policy. Continuous engagement with diverse student populations and a thorough understanding of educational operations align with the core functions of Ms. Griffin's role as a school administrator. Ms. Griffin is both excited and humbled by the opportunity to utilize her expertise to create a school culture where every student's unique educational needs are met, and educational expectations are exceeded.